College & Campus Facilities
Conglomeration of institutions run by Ajmal Foundation situated in differnt parts in the heart of Assam. Apart from being the Hojai city has become the hub of Ajmal institutions. Maryam Ajmal Women's College of Science and Technology, Hojai is a premier institute for science education situated in Barpukhuri, Jugijan Road within a distance of not more than 3 kilometers from Hojai main town. Nazir Ajmal Memorial College of Education, Ajmal Law College, Ajmal College of Arts, Commerce and Science and many more educational activities run by Ajmal Foundation is within this radius. Therefore, Hojai is now the natural choice and preferred destination for students from different parts of the Assam to pursue their education. The district is now a home to way renowned houses for educational sector. Ajmal Group of Colleges has an excellent infrastructure and accessibility from various parts of the state. The colleges have well designed administrative block and various other rooms and facilities for the students such as girls common room and boys common room, waiting room, co-operative store etc. The institutions have provided well equipped furnished labs for basic sciences separately and other departmental laboratories as per the norms of AICTE & University. Each section of students has separate classrooms and facilities as per the norms of the AICTE. Class rooms are well furnished and ventilated. Audio visual Room is provided with all teaching aids, OHP, Slide Projector, Television, Video Player, LCD Projector, Video Camera, Still Camera, DVD, Multimedia Computer, Audio Systems, Microscopic Projector, etc., in order to ensure overall development of students. The students have all the facilities for games and sports. Adequate infrastructure are provided for indoor and outdoor games and extra-curricular activities. Almost all the colleges have made more provisions for the expansion of buildings, facilities etc.. Other facility consists of Drawing Hall, Conference Hall etc. The colleges based on Hojai provide bus facility for students to commute from different parts of the town.
---
College Hostel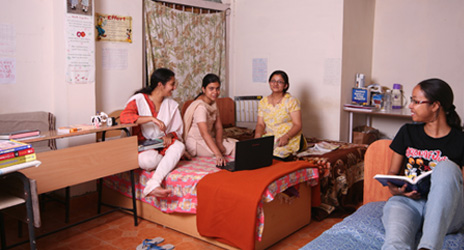 Hostel is nother home for students. The institutions provide separate hostel facilities for Boys and Girls with seperate areas of residence. It has adequate high security and good discipline. Each room has an attached bathroom. The students who are not staying with the parents shall reside in the college hostel as per college rules.
---
Library and Information Centre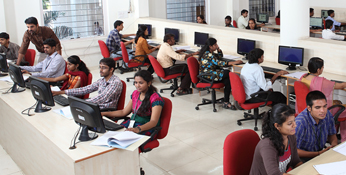 Access to information is a vital key in developing the individuals potentiality. AGIs have provided libraries consisting more than 9,000 volumes of books and adequate number of journals. All the latest editions of books both for reference and text are available in the libraries. We also subscribes to various newspaper and periodicals for the information and update of students' knowledge. The journals of both National and International, related to almost all the subjects are also subscribed. The interventions of Information Technology has provided a great gap in the case of Library automation services. The Libraries are computerized with all the features of library management system. The libraries also maintain e-books for students. The libraries are equiped with all the modern furnitures having adequate seating capacity.
---
Well Experienced Teaching Staff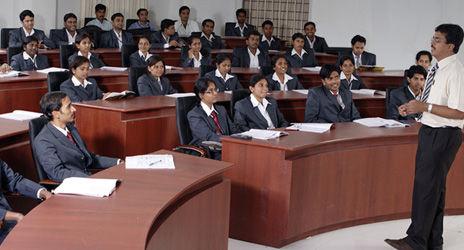 Ajmal Group of Colleges have excellent teaching faculties with highly qualified and well experienced staff. The teacher-student ratio is maintained at 1:10. The students are given special attention in their studies. The excellent results in the university examination is due to dedicated, constant effort by staff. The teaching aids used by the staff are modern and helps the students to learn the subject thoroughly. Parents teachers meeting is held periodically after each internal test and students performance is furnished to the parents directly.
---
Transport Facility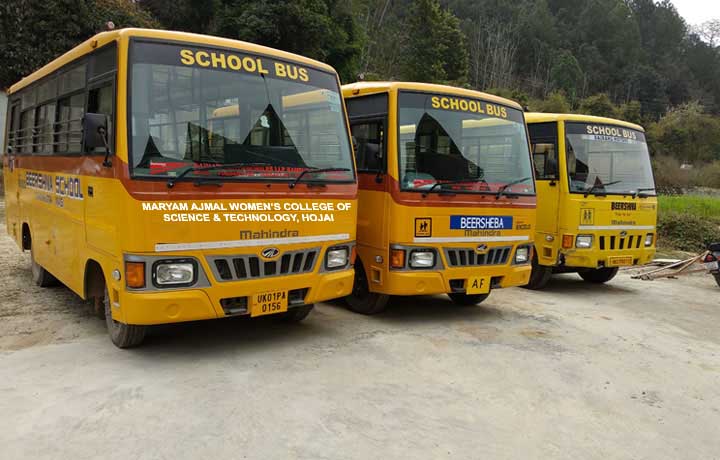 Students can avail the opportunity of our transport system at a nominal monthly charge. We run bus service around the local area of Hojai town that fetch the students from and drop them at their places in a best feasible manner.
---
Career Counselling
We run and maintained a Career Counselling cell that helps students in setting career goals and dealing with stress (if any) in education. The cell gives a clear access to the students, scope of their graduation, navigating universities for higher studies and admission into them.
---