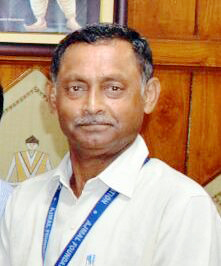 Dear Parents,
Dear Parents/Guardians, This is a golden era of career in the education field. We are aware that education is not only a preparation for examinations but a preparation for one's life itself. Education is not only the greatest asset of an individual, but for the society, the state and the nation as a whole. In Ajmal Group of Colleges [AGC], we lay good emphasis on value-based education to our students; that will not only help them to clear engineering/medical entrance examinations, but will also help them in all their future endeavours. AGC believes' in the tag line, 'AJMAL FOR EDUCATION, EDUCATION FOR ALL'.
As a parent, you want the best for your child; and we are happy to be working together with you to bring out the best of your child by ensuring that he/she is given the true knowledge to overcome the challenges in his/her career, whether it is a question of solving a problem in a subject, facing an interview, building a bridge, discovering a drug or treating a patient.
In Ajmal Group of Colleges, we believe that education is holistic and transcends all boundaries and limits. As a result, we constantly endeavour to bring out an all-round development in your child. The talent and the positive energy that our student possesses need to be nurtured and channelled in the right direction and our combined effort will go a long way in bringing out the best of him/her not only in his/her career but in his/her life as a whole.
AGC has 24 colleges [HS, Degree, Bed & Law] under it's umbrella. These colleges are located in rural area's, with it's hub at Hojai, Assam. At Hojai, there are six colleges and hostels for both Boy's and Girl's. It is also having a project, Ajmal Super 40, wherein students are given integrated coaching for HS syllabus and for competitive exams like NEET and JEE. In these few years, it has produced few outstanding results also. Many of our students are from very poor financial background, and they are given adequate concessions so that they can pursue their academic dream and make their future bright. Wishing you a rewarding experience in Ajmal Group of Colleges!
Wishing you a rewarding experience in Ajmal Group of Colleges!
Regards,
Col. Samir Kanjilal (Retd.)
Academic Director
Ajmal Group of Colleges